I'm looking for a copywriter to create a 10 email sequence for a 30 day trial sequence. Niche is technical SAAS. Comment below if interested. Must have experience. 
Hey CWB Community!!
I just wrapped up this pretty epic blog post where I break down 51 different ads and go over all these different copywriting examples.
I would love it if you guys would leave a comment and help me spread the word.
Also feel free to ask any questions you want here that I will answer just for this group.
Blog post is here:


Hey hey!!

I would LOVE for you to join me on Wednesday at 3 pm eastern time as I interview copywriting great Gary Walterscheid.

And because you are part of the private community you actually get the Zoom link so you get the best seats in the house.

Here's the zoom link please add this to your calendar!

Mike

PS Zoom link is:

https://us02web.zoom.us/j/2278176117
In Honor Of This Being The 10th Episode Of The CWB Newsletter...
​


I thought I would list out 10 Copywriting Secrets that I've picked up in my 15+ year career as a business owner, scaler, and copywriter.


​


Secrets is a strong word, so I used that to get you to open, but maybe "tips" is better as some of you will no doubt know some of these.


​


But, I think they will still do you a world of good! Even if you've heard these before - pay attention and more importantly apply these!!


​


10 Copywriting Secrets
​


1) More important than the copy is the offer. Seriously. A great offer is 90% of the solution. If you have a GREAT offer, your copy can be ok and you'll still win.
​


2) An amazing headline is more powerful than just about anything else (besides a great offer). The headline of your ad or sales page is what people look at and judge the whole rest of the sales page by.
​


3) Pricing is rarely talked about by copywriters because usually we're just given the price and told to sell it. But, if you can, look at ways of making the price more buyer friendly. This includes payment plans and discounts for paying up front.
​


4) Copywriting is more about thinking and planning than it is about writing. Most people focus on the words - did I say this right? That's important but that's the 2nd battle. The first battle is making sure you know what you're doing to say and WHY you're going to say it.
​


5) Strategy vs Execution. This is what I was getting at in part 4, but you've got 2 jobs when you write an offer for your business or for your client. The first part is strategy which is how you're going to attack the problem. The 2nd part is Execution which is what you actually write. Focus more on strategy and you'll go a long way.
​


6) You can't create desire. Humans are a fickle animal. Desire can't really be created, at least not from zero. You can amplify desire and you can harness it, but you can't create it. Don't waste time selling something no one wants - no amount of "persuasive" copy will make someone buy something they don't want.
​


7) Grammar is important but more important is relatable language. I've seen people debate grammar all day long, and while there's a place for proper punctuation, the key you should focus on is connecting and relating to your prospect.


​


8) Remember the rule of one. You are always selling to one person. You never write to a crowd or a committee. You write to one single person and that is all. Don't say "you guys" or "hey everyone", etc. Talk to one person.


​


9) The rule of one part two. The other rule of one is that you are always selling ONE thing per ad/step. The subject line sells opening the email. The email sells clicking the link to the landing page. The landing page sells the product or service. Don't try to do more than one thing per step.


​


10) Don't write copy. Let me repeat that. Don't write copy. If you set out to "write good copy" you most likely won't. If someone who is in your target audience reads your sales material, they shouldn't say, "wow that was great copy!". They should say, can I buy this from you now or how do I get this? Great copy makes people want to buy. It's invisible.


I worked with JJ and we went through his entire website breaking it down. Make sure you give this a watch there's a lot of good stuff here:


Happy Friday!


​


I love Friday's because I get up early and LOVE waking up early on Saturday mornings to go to my office to write and think. I'm closing in on 40 years old (December this year) so maybe it's just part of getting older, I'm not sure.


But, what about you? What's your favorite part of the weekend? I read replies so feel free to write back. :)


How To Write Better Copy
In this quick episode, I'm gonna lay out 6 tactics you can use to write better copy. This better copy can be any kind of copy. From emails to newsletters, from VSL's to landing pages, doesn't matter.


The key is if you want your words to persuade, here's 6 different ways to get better at it.


1) Read Your Copy Out Loud
Because I am naturally more auditory, this is something I've always done. When you finish your copy OR get stuck at a certain point... just read it out loud.


Do it in your own voice and speak like a real person. Use inflection, intonation, stress, rhythm, accent, and more. You want to listen for any parts that just sound "off".


It's not always easy to catch things when you are reading, but when you talk out loud the bad parts really jump out at you.


2) Active vs Passive Voice
This concept works. I will say that I am not naturally very good at this. I find my style tends to be a little more dramatic and wordy, but that is part of my voice/sound. Or at least that's what I tell myself.


In copywriting, you can really exploit the active vs passive voice by focusing more on VERBS instead of words that end in "ly".


She didn't speak quietly, she whispered.


She didn't speak loudly, she yelled.


You didn't quickly run to the store, you sprinted.


When your copy is ready for review, do a crtl + F (or cmd + F for you apple nerds) and search for passive words like is, are, was, were, be, being, been) and also "ly". See if you can replace the phrase with an active verb. Your sales will thank you.


3) Write Like You Talk
Another truth as old as time. Don't write to impress literature majors. They suck anyway. Well, at least at copywriting. Nope, instead, you want to write like you talk.


Look at the way I'm writing right now. It's down to earth, approachable, and maybe even a tad bit too friendly.


And that's ok! Copy is talking to a friend. In fact, you may even want to take a crack at TALKING out your sales pitch and recording it. Then get it transcribed and work backwards from there.


4) Use Power Words
Discover, Amazing, Uncover, Revealed, Breakthrough, Announcing Secret... there are so many "power" words. Power words are simply words that make your prospect feel a certain kind of way. They are powerful for lack of a better word.


The key with these words is that they are like a strong spice. Don't overuse them. Otherwise, you'll ruin the whole dish.


While You're Welcome To Use Forbidden Power Words... Your True Breakthrough Will Happen When You Never Overuse These Unique And Secret Words That Guarantee Quick & Direct Lifetime Results!


See my point there - almost too much right? Use them to get attention, but not to DEMAND attention.


5) Know What The Prospect Wants
I would venture to say this is probably the most important one of them all. You need to know what the prospect wants. Like, what they really want. Your job when writing ads is to speak to their core desire and explain how your product/service fulfills that core desire.


If you don't know what the prospect wants, try watching this video on how I do research... many people have found it very helpful:
​


6) Tap Into Core Emotions
This is often overlooked. Knowing what the prospect wants is very transactional. It's the most important though because it is what attracts the prospect to read or engage with your marketing.


However, what you need to do is to move the prospect from a place of transaction over to a place of transformation. You see, there's what the prospect says they want (this is your bait), then there's what the prospect really wants. (this is your hook).


Your job is to uncover both. The prospect says they want to get rid of their bald head. But they really want to look younger. But why do they want to look younger? They are scared of aging and maybe being looked down upon by their spouse or others in the community.


You've got to keep digging until you get to the core.


Like a Tweet I sent the other week says:


Keep asking WHY until you reach the center of the problem.


When you do that, you'll find that you can really increase sales.


​


I'll see you next week!


Mike


Free Web Class Next Week!
I just put the finishing touches on my first webclass. I really hope you'll join me. Check out this page to get all the details. I built this page myself so I'm extra proud of it. And I wrote the copy of course. ;)


​


Join Me LIVE Next Week to discover how to write better copy faster and easier without struggling with writer's block!


​


I will try to keep this week's newsletter short. I always say that but if you're a copywriter like me, you know it can sometimes be tougher to be pithy than wordy.


Like the old Blaise Pascal quote goes:


I would have written a shorter letter, but I did not have the time.
​


But I digress.


Today, I want to talk about something really dear to my heart. And that is all about how to write better sales copy.


The older I get, the more I realize that when I was younger I was doing things backward.


I used to just sit and write copy till the cows came home. I didn't have a formula to follow at all, and I meandered from topic to topic. I relied on my writing skills to carry me through.


Even though I now have lots of formulas or templates to follow (part of my
Copywriter Brain program
shameless plug) but I still think there's a better way to write copy.
And what is it?


Writing Better Copy By Asking Better Questions
That's the secret. Do you have any idea how much information and knowledge is locked inside your head? It's there, sitting in storage. The issue isn't, do you know it, the issue is how do you access it?


Much like a database, your brain is full of useful information. However, just scanning through all the fields would take a lifetime.


You must get better at asking better questions.


To carry through the "database" metaphor, programmers use a tool known as "Queries" to find information from the vast sea of data they are working with.


For example, this query would show me every time I mention the words Apple and Doctor in the same paragraph.


​


Show Me: Doctor & Apple


​


Obviously, we can't query ourselves in quite the same way (yet). But what we can do is to get better at asking ourselves questions BEFORE we start writing our next ad or sales letter.


By asking questions, we are cueing up our brains to search our vast knowledge-base and come back with answers.


The better the questions you ask, the better the returns will be.


So, the point of this is to force yourself to get really good at asking the right questions.


And the truth is, it takes practice. You need experience in a field to even know what questions to ask. You need real-world feedback to find out how well your answers work.


​


A Few Questions To Get You Started
Here are 10 questions you can start to ask yourself before you start working on your next piece of sales material. Your goal, however, is to start coming up with your own questions.


1) Who am I selling to?


2) What does my target customer really want to accomplish?


3) How is my product/service different than my best competitor?


4) What would make buying my product/service an easy decision?


5) Why would someone NOT buy my product/service (assuming they're the right customer)


6) Is there natural scarcity or urgency with my product/service?


7) If there isn't natural scarcity or urgency, can there be?


8) What kind of proof do I have available to show my potential customers?


9) How does my target prospect speak? Can I interview someone who is a former or potential customer?


10) If I was forgetting to ask a good question, what might that question be?


That's It For This Week!
Hope you enjoyed this copy-byte. Feel free to respond as I always read and do my best to write back.


Let me know some of your favorite questions to ask.


And with that, here's my tweet of the week. Make sure you give me a follow on
Tweeter
!
​


Have A Great Weekend!


Mike Giannulis


PS -


Tweet Of The Week
​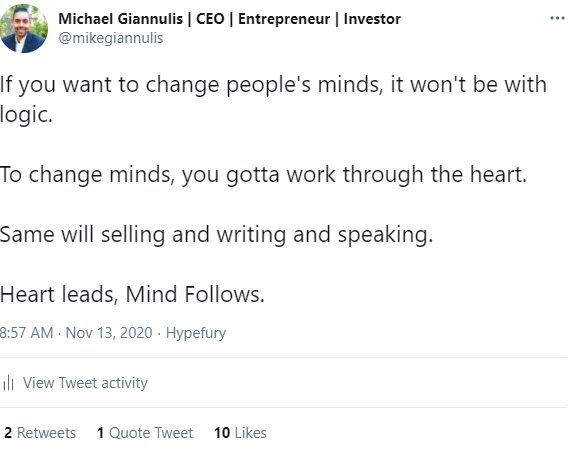 ​


Get them all here: (affiliate links just so you know)



IDEA CREATION:

A Technique For Producing Ideas
Simply Brilliant (Bernhard Schroeder)

LOGIC/ARGUMENT:

Start With No (Jim Camp)
How To Win Every Argument (Madsen Pirie)
Win Your Case by Gerry Spence

SALES:

The Secret Of Selling Anything (Harry Browne)
SPIN Selling (Rackham)

THE CLASSICS:

Scientific Advertising
Tested Advertising Methods
Ogilvy On Advertising
How To Write A Good Advertisement
The Copywriter's Handbook (Robert Bly)
The Adweek Copywriting Handbook (Joseph Sugarman)
Breakthrough Advertising (Schwartz)
The Robert Collier Letterbook

MODERN CLASSICS:

The Boron Letters
Breakthough Copywriting (Garfinkle)
Great Leads (Michael Masterson)
The Ultimate Sales Letter (Dan Kennedy)

EDITING COPY

Copy Logic
Halbert Copywriting Method Part 3

STORYTELLING:

The Story Equation
Save The Cat
The Writer's Journey
Story

IMPROVE WRITING:

The Elements Of Style (Strunk & White)
Spunk & Bite
100 Ways to Improve Your Writing (Gary Provost)
The Writer's Process (Janzer)
How To Write A Sentence (And How To Read One)
On Writing Well
Writing To Learn

WRITERS BLOCK

The Obstacle Is The Way
The War Of Art (Pressfield)
Turning Pro
Do The Work

PERSUASION:

Influence
The One Sentence Persuasion Course by Blair Warren
27 Powers of Persuasion: Simple Strategies to Seduce Audiences & Win Allies
Triggers (Joseph Sugarman)

MARKETING:

The 22 Immutable Laws Of Branding
The 22 Immutable Laws Of Marketing
80/20 Sales & Marketing (Perry Marshall)
Overdeliver by Brian Kurtz
The Wizard Of Ads

RESEARCH:

The Craft Of Research
Marketing To Mindstates
How To Lie With Statistics

THINKING

The Great Mental Models
How To Take Smart Notes
How To Read A Book
Learn To Think Using Thought Experiments
I will be doing a live intereview with my compliance attorney soon. What sort of questions would you guys like me to ask?

He's an open book and so am I. I have been through the ringer with a compliance issue for another company one of my companies worked with!

So, I have a lot of experience lol.

Anyway - would love for some questions for you guys!